Tips and Tricks when Climbing with Apple Watch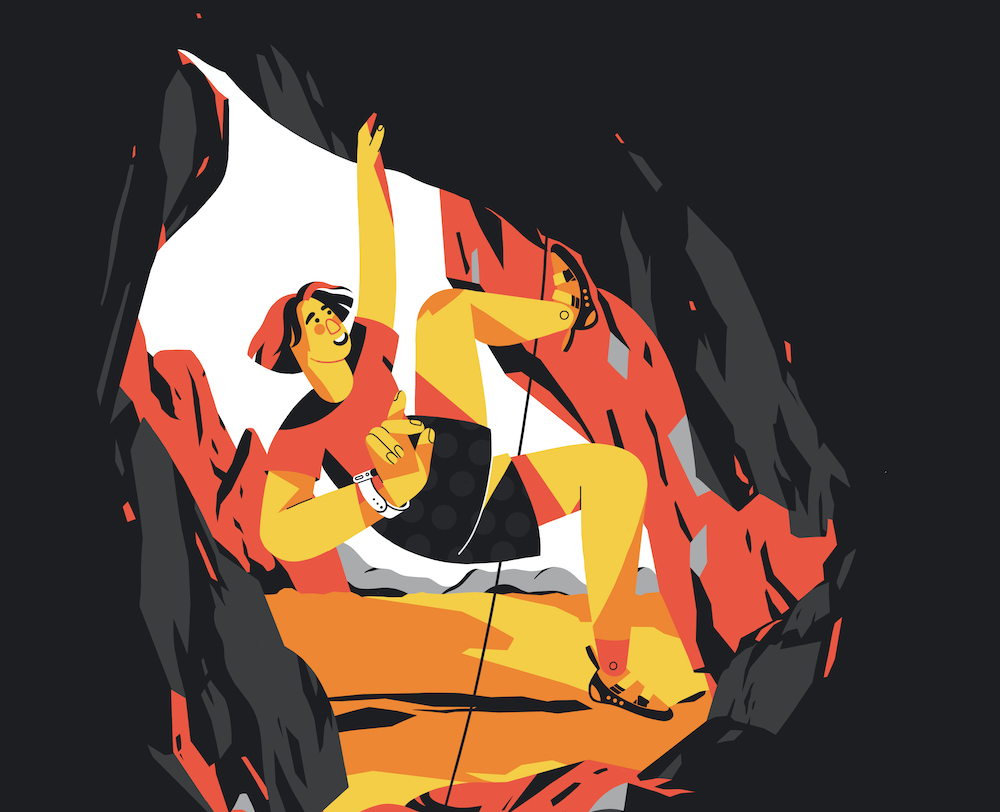 Climbing is a great sport. And Apple Watch is a great fitness tracker. It even provides built-in capabilities to track climbing activities – even though this is only very basic and just provides duration, heart rate, and calories for each climbing workout: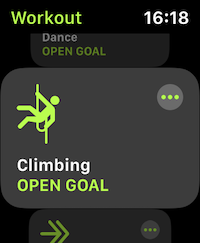 The right App for Climbing & Bouldering
With the integrated workout app only providing very basic statistics I started to work on my own fitness tracking app "Redpoint" (free download) — specifically built for climbing. I was surprised that nobody thought about that so far: Apple introduced a new barometric sensor with Apple Watch Series 3 which provides detailed air pressure data. With this information, I've been able to calculate the ascended distance and detect when a person starts to climb, reaches the top, and comes back down. This already gives us so much more interesting data about our climbing activities compared to the default workout app. But there's more: I quickly integrated all available sensors of the Apple Watch to enrich each climbing session: calories, heart rate, movement data. This all helps to provide the best data to my users. Topping it off with manual data points on difficulty and tick types.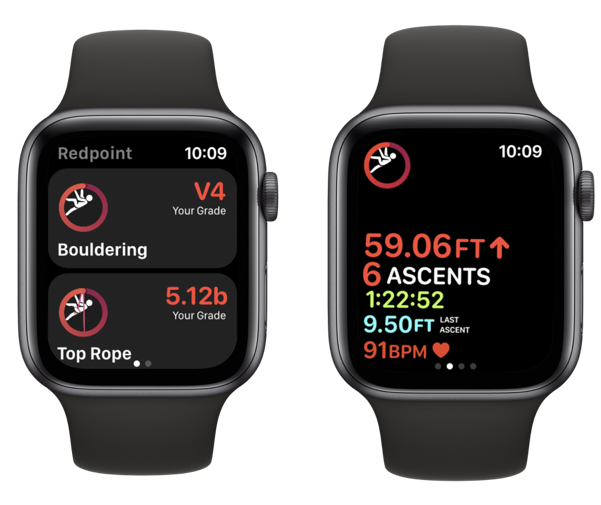 Logbook: Tick types and Difficulty Grades
For climbers who want to keep track of their climbing history it's not only important to keep track of the number of routes, altitude, and heart rates during each climb; even more important is the difficulty grade and the tick type.
Difficulty Grades
Redpoint features an extensive list of integrated grading systems from all over the world:
Hueco (V-Scale)
UIAA (6-, 6, …)
French (4a, 4b, …)
YDS Yosemite (5.11a,…)
Fontainebleau (6A+,…)
Aid Scale (A1 - A6)
French Alpine (PD, AD,…)
Smith / Fletcher (1 - 5)
Kurt Schall (A, B,…)
Saxon Grades (I, II, …)
British Trad (Mod, Diff…E1,E2)
British Technical (3c, 4a, …)
Ewbanks (1…35)
WI numeric scale (WI2, WI3, …)
M numeric scale (M1…M14)
Redpoint also allows users to create their own, custom grading scales. Many bouldering gyms (especially in Europe) don't comply to any standards but invented their own color-coded grading scale instead.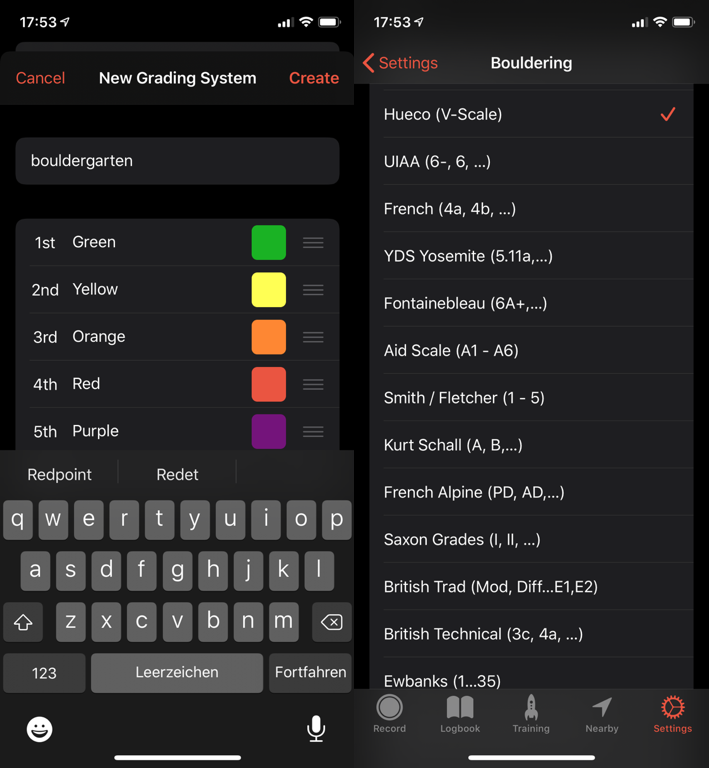 Tick Types
Tick types give more details about the type of ascent: was it my first attempt? Did I send the route first try (flash)? Did I watch someone doing it before? All of this is important information which is tracked in Redpoint:
Lead
Failed Attempt
Onsight
Flash
Red point
Pink point
Ground up red point
Green point
All free with rest
Hang dog
Lead solo
…and more depending on the climbing activity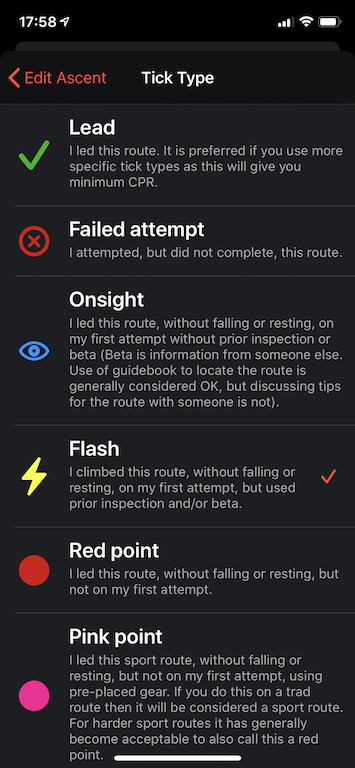 With the help of the team from thecrag.com we'll be able to extract even more information from that soon, such as the CPR — the Climber Performance Rating.
Supported Climbing Activities
Redpoint supports a wide variety of climbing activities:
Bouldering
Top Rope
Sport Climbing
Trad Climbing
Multi Rope (Alpine)
Ice Climbing
Free Solo
Aid Climbing
Via Ferrata
For ascent-based activities, such as lead top-roping or bouldering the app measures the activity based on ascents. For activities, that are more about one long ascent (e.g. Via Ferrata, Multi Rope, Hiking) the total ascended distance is measured instead and tagged on a GPS map.
Short Term Stats
Short term stats are a nice way to see what you've accomplished during your climbing session. All the data is nicely visualized in charts and helps you to understand how you performed during the session.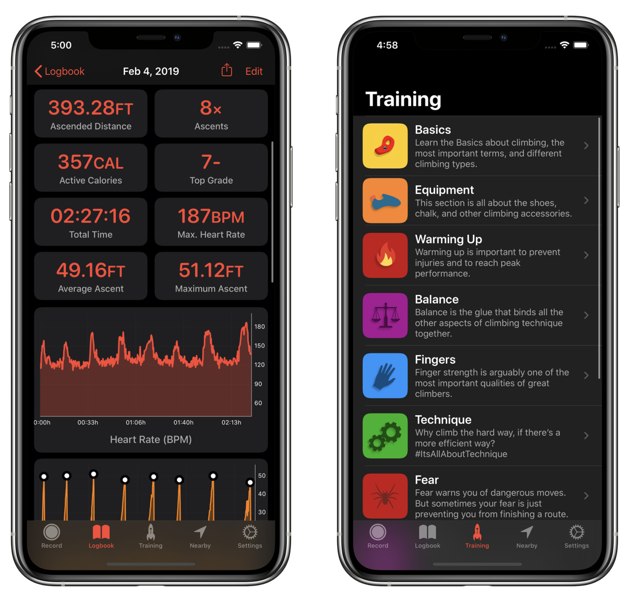 Long Term Stats
Long-term stats are intended to show your progress over a longer period of time. This helps to see how your training affects your climbing skills and lets you plan your next steps. All this data helps curating a personalized training plan for you, and to calculate your Climber Performance Rating.
Your Data & Privacy: On-device, Offline Processing
Redpoint has been designed to keep your data private and safe. By default, Redpoint stores your data offline, on-device, and never transmits it. You may opt-in to features which securely and confidentially transmit your data. Specifically Apple's Health App, Strava, iCloud Sync, iCloud Backup, iTunes Backup. Redpoint does not require any login to make use of its full potential. Of course, this brings some challenges for us: We have to run all analysis and algorithms offline on-device without any server support — but as you can see, it works well!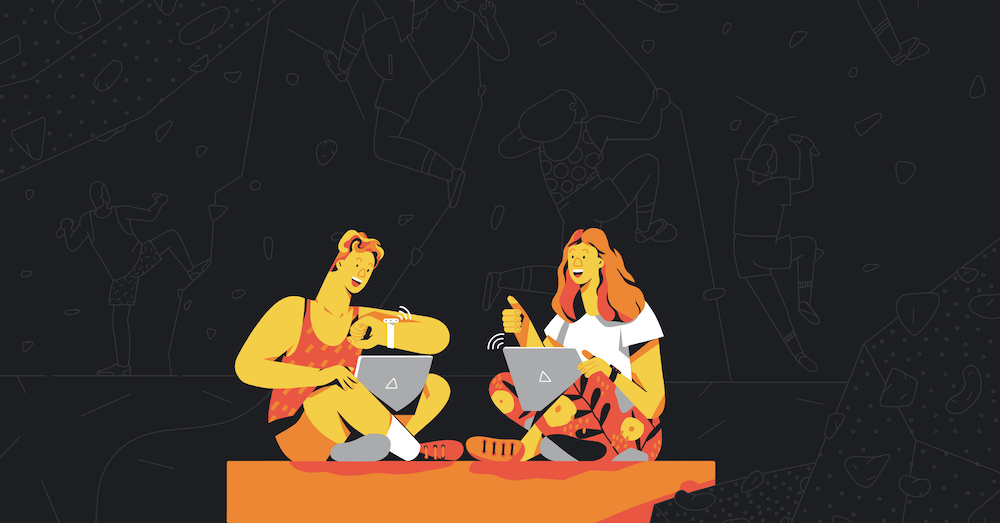 Perfectly Integrated
When I do something, I want to do it right. That's why Redpoint makes use of the full potential of iOS and watchOS. We integrate deeply with a bunch of different frameworks to provide the best user experience possible. Just to name the most important ones, Redpoint integrates with: WatchKit (Apple Watch), HealthKit, CoreML, and CoreMotion.
Sharing & Connecting
Share your climbing session details directly to your instagram story. Redpoint generates a nice graphic from your activity. You can also connect Redpoint with Strava to sync your activity with the fitness platform.
Nearby Climbing Gyms
Redpoint also provides a great list of nearby climbing gyms — showing you all the important info. Just as an example, here is Planet Granite in San Francisco.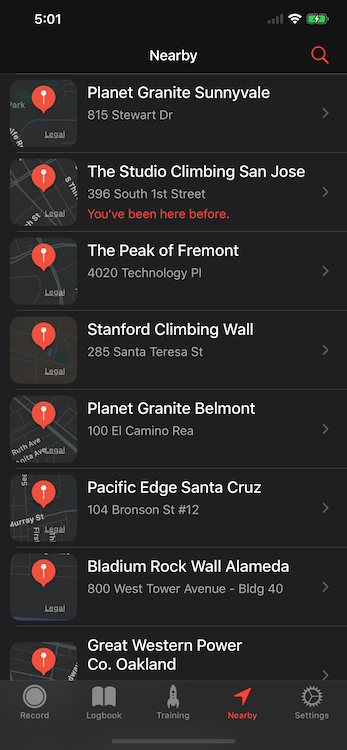 Protecting your Apple Watch
Apple Watch is not only a fitness tracker. It's also a beautiful, fashionable watch. Extreme sports such as climbing require extreme durability for impacts and shocks. That's why you should always consider getting a case for your watch. I've done some testing with different manufacturers and for me the Qianyou Bumper Case (Series 4, 5 and 6) and the Recoppa Case for Series 7 worked best. I was looking for a case that is quickly attachable (within seconds and without the need to remove the watch band), and protects the screen and the sides of the watch well. This is all available in this case. I don't really care about the looks since I'm only wearing it while I'm climbing — I take it off afterwards, so I can enjoy my watch in mint condition. I've put together a short video review about the case, just in case you wanted to get more details.
Fun Fun Fun
Climbing is fun. And the best climber is the one who has the most fun! And if I could help you to gain even more fun by tracking your climbing activity, and being able to see your progress, then I'm happy as well.
Give Redpoint a try the next time you go climbing — download it for free from the AppStore for your iPhone and Apple Watch. Or sign up for our Android mailing list to be among the first to test our Android app.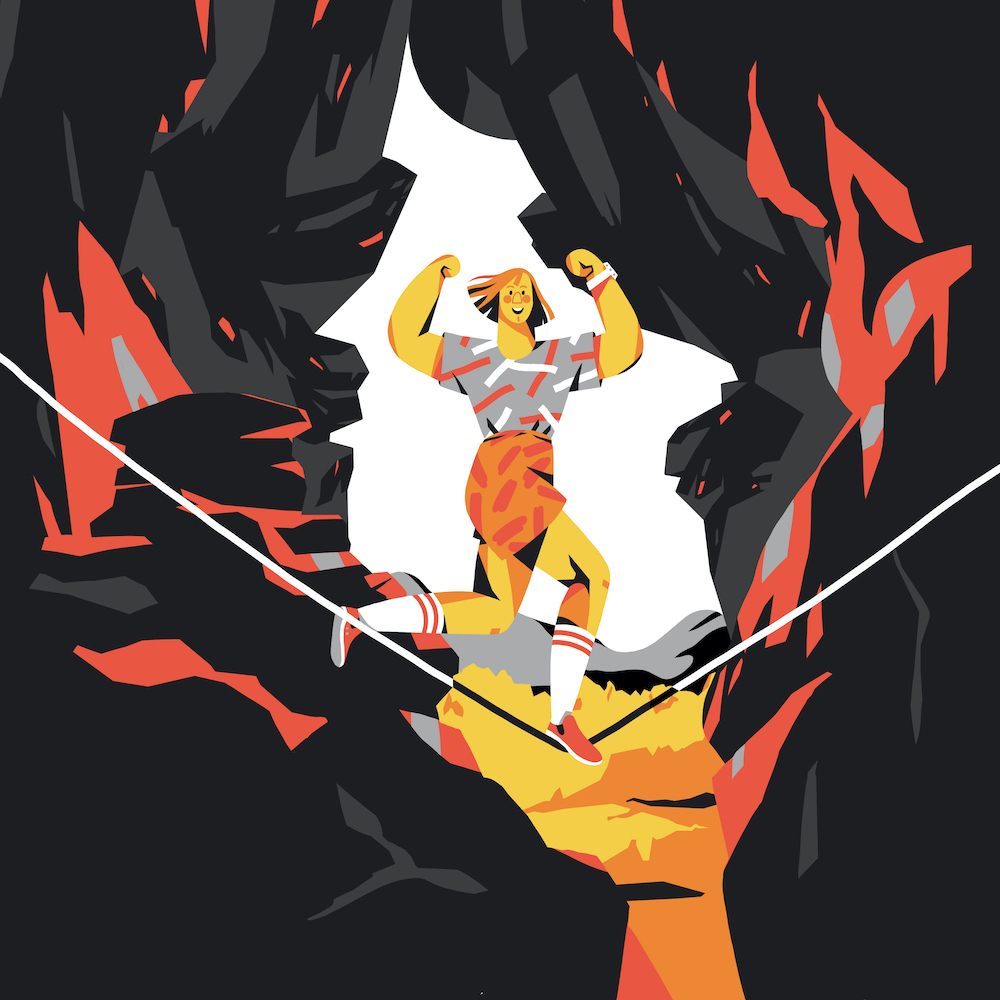 If you liked this article, you can follow me on Twitter and subscribe to my newsletter to stay up to date.